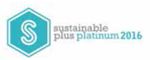 Exceeding the Gold standard:
Ambuja receives the Sustainable
Plus Platinum Label.
Sustainable Plus is India's first
and only corporate sustainability label,
that is based on a comprehensive
Environment, Social and Governance
analysis of companies.
This year, Ambuja improved upon the
Gold standard previously conferred upon
the company, to the rare Platinum status.