When a stream of positivity flows, every drop matters
Water has been the key focus area for us ever since inception. Our efforts have been acknowledged with the latest recognition we received for leadership in water security in CDP 2021 with the best-ever 'A' score. Globally, Ambuja is the only cement company to have achieved this feat.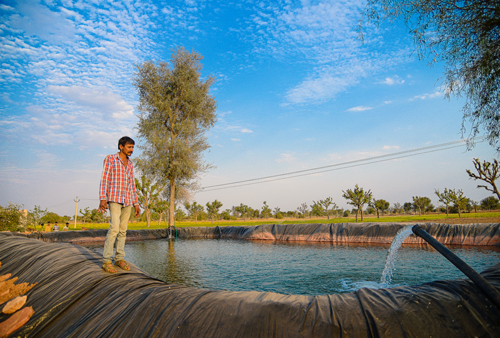 With growing water stress over the past few decades, Ambuja has been addressing water scarcity issues especially in our communities where erratic rainfall and inadequate irrigation coverage has increased groundwater usage in farming, leading to steadily depleting water beds.
This is what was being faced by local residents of over 50 water-stressed villages in Rajasthan and Maharashtra who realised that the only way out was to tackle this issue head-on. Their local representatives (panchayats) approached Ambuja's CSR arm, the Ambuja Cement Foundation to provide a viable plan with technical knowhow.
First, a detailed site study was conducted in partnership with ATE Chandra Foundation, which revealed 17 defunct water bodies could be restored once the pits were cleaned and desilted. Community members stepped in with tractors and excavators and these volunteers successfully unearthed over 1,66,000 cubic metres of silt that was spread over agricultural land.
Water storage capacity expanded by 166 million litres and 550 tube wells recharged. With the immense benefit staring them in the face, the villagers readily shouldered 75% of the project cost. The arrival of monsoons gave a fresh lease of life to the water bodies and rejuvenated the villages.
It is innumerable efforts like this for the sustainable consumption of natural resources that has ensured us a place in the sun. Today, Ambuja Cement is the only company to be certified over eight times water positive - amply displaying the spirit to systematically shape our destiny and create a shared prosperous future.