Ambuja Cement has become the first Indian cement company to qualify and be awarded the prestigious certification on sustainable product labelling, 'PRO-SUSTAIN' by a leading global certification body, DNV Business Assurance. It has been obtained for our Darlaghat operations. The 'PRO-SUSTAIN' certification implies that the Company promotes the adoption of responsible and cost effective measures for incorporating sustainability into product design, development, production, and supply chain management. The 'PRO-SUSTAIN' product label will be used on our cement bags. This extensive and detailed assessment became necessary when we realised that our stakeholders wanted to be assured on the sustainability performance of our products and business processes. To this end, Ambuja embarked on this initiative with independent experts.

The initiative involved a robust assessment and labelling process in keeping with the best sustainability practices. The entire process has been very gratifying as it enabled us to measure, improve, and demonstrate the sustainability performance of our value chain including product manufacture, distribution, and marketing. This certification has provided recognition to both the sustainability management efforts of Ambuja, and the performance of our product. Being one of the trusted, leading cement manufacturers in India, Ambuja strives to set a benchmark for the quality of cement. The major areas of focus are raw materials, fuel, and innovative product development.

The environmental impact of our cement production has reduced over the years. Cement being a commodity, use-oriented figures are not measured. The Company uses HDPE bags for packing cement; it also uses bio-degradable paper bags for selected cement markets. As it is practically not possible to collect cement bags from markets, Ambuja has demonstarted its leadership as a responsible company by
co-processing more plastic wastes collected from other sources than the quantity of HDPE bags it uses. The environmental impact of transporting goods and materials for the organisation's operations, and even transporting members of the workforce, has reduced over the years. Bulk cement transportation through sea routes has been in practice since 1993. Today, Ambuja owns 10 ships for transportation of products and other raw materials. Ambuja has just initiated Scope 3 emissions measurement.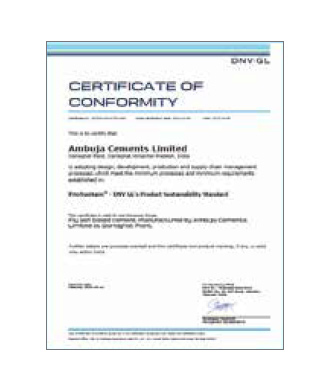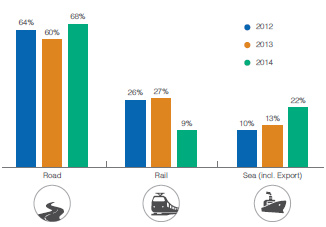 We have invested in energy efficient equipment, upgradation of pollution control equipment (air, water, noise, waste), dust suppression systems, rainwater harvesting systems, green belt development, environmental training and awareness, road sweeping machines, certifications etc. The Company incurred an expenditure of over Rs. 420 million for environment protection during the year. As on 31 December, 2014, there were eight cases pending in different courts. No formal grievance has been filed about environmental impacts through grievance mechanisms during the reporting period.