Ambuja's most distinctive attribute is its approach to business. The Company firmly believes in sustainable development of all its stakeholders. In this process, an eco-friendly mining strategy has been adopted for all Ambuja locations. This fosters a safe environment and positive work culture in the vicinity of the mines. Ambuja Cements Limited has mining operations in Gujarat, Rajasthan, Himachal Pradesh, Maharashtra and Chhattisgarh. To penetrate the market and overcome logistic barriers, Ambuja has installed eight grinding units and three bulk cement terminals in various parts of country. To support such huge volumes of production, limestone, the prime raw material, is obtained through 10 captive mines located in the vicinity of the integrated cement plants.

Limestone excavation is carried out by highly mechanised, modern, open-cast mining technology. The mining methodology varies according to the geographical conditions, nature of occurrence of the deposit, geology of the area, physical and chemical characteristics of the mineral, topography, hydrogeology, structural features, and the quantum of waste material/ soil to be removed. Two basic methods are used to obtain the raw material:

Surface Miner Technology:
This technique is suitable for soft to moderately hard limestone and is used in and around Gujarat. It avoids primary crushing. The method offers substantial reduction in vibration, noise, and dust development.

Controlled Drilling and Blasting:
Controlled blasting is adopted at mine sites by the use of electronic detonators for higher precision, this technique results in improved blasting due to a wide range of delays and reduction of air A total of 42,61,369 tonnes of overburden/ interburden or waste material was generated during the reporting period. There was no generation of tailings and sludge. Waste material is disposed through an excavator-dumper-dozer combination. Dumping is carried out in non-mineralised areas. No associated risks have been identified so far. The dumps are well designed and maintained with a predefined slope angle for maximum stability.

There were no strikes or lockouts at our mines in the reporting period.

Our operating sites are not located adjacent to indigenous peoples' territories blast/ ground vibration.

It is safe in extraneous electric environments, and offers the possibility of limiting the amount of detonators per shot. In this technique of mining, drilling is carried out by deploying a 150 mm dia. drill (Atlas Copco/ ROC L8), equipped with an in-built arrangement of water sprinkling for dust suppression.

A separate dust extraction system makes the operation practically dust free. Along with the drilling equipment, hydraulic excavators for excavation and loading, and dumpers for transportation are deployed. Blasting operations are carried out in a controlled manner to minimise generation of fly rock.

Amount of land (owned or leased, & managed for production activities or extractive use) disturbed or rehabilitated: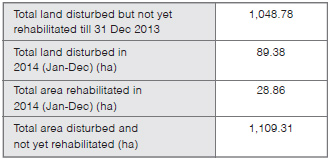 None of the sites are operating in the immediate vicinity of specific biodiversity zones. Biodiversity (flora and fauna) studies have been conducted by third parties around almost all our mining areas. Additionally, we are implementing the Holcim Biodiversity Directive with a mandate to prepare a Biodiversity Action Plan for our sites. The study has been completed at Ambujanagar and Darlaghat sites.

We follow a consultative approach to address concerns of local communities if any, involving all the stakeholders.

There are no operating sites where artisanal and small-scale mining takes place.

Lands are purchased on a one-to-one basis after negotiations. There were no significant disputes related to resettlement.

Progressive mine closure plans are available as per statute for all the locations. Additionally, concurrent rehabilitation plans are available for the working mines in Gujarat.