'Assured quality' is one of the prime factors for sustainability of the industry. Corporate product quality management (PQM) plays a significant role in this respect by ensuring cement quality, boosting consumers' confidence, and leading to new products. Our PQM is a comprehensive set of tools used to control and manage product quality across the Company. This system involves monitoring of five quality principles; (i). Measurement of customer satisfaction; (ii). Product benchmarking;

In addition, the Company has also constituted a Quality Committee, which refers to an institutionalised, regular meeting between regional marketing and sales teams, customer support service teams and manufacturing teams (Plant Manager, quality control & production). The objective of the 'Quality Committee' is the continuous

New Products Initiatives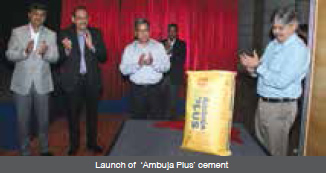 We conducted several laboratory trials for successful commercial production and development of new products with advanced Special Performance Enhancer (SPE) technology that makes concrete stronger and easier to work with. This led to the successful launch of our new product- AMBUJA PLUS which attracted very good response from the market.

Low Carbon Cement (LCC)

A low-clinker ternary blend developed through international collaboration between the University of Las Villas, Cuba and École Polytechnique Fédérale de Lausanne, Switzerland, and funded by the Swiss Government. Its end product can lower clinker factors to 40%; and emissions by 50% clients by participating in conferences, delivering technical presentations and publishing technical papers.

Knowledge Sharing

For the benefit of customers and other stakeholders in construction industry, eleven (11) technical lectures were delivered and five (5) new technical booklets were published on different topics. External trainings were also organised at Ambuja Knowledge Centres (AKCs), institutions/ colleges, and consumers' sites, totaling 28 programmes and benefitting 2,231 participants.

As part of our Cement Sustainability Initiative (CSI), internal training was conducted within all the Ambuja plants to improve skill, knowledge, and competency to meet challenges in using alternative raw materials and fuels, with the following objectives:

1. To support product management in cement chemistry and mineralogy.
2. Development of QC training modules to build capacity and address problems.
3. To follow established safety practices and eliminate hazards to achieve ZERO harm in all Ambuja QC laboratories. 4. To develop competency especially in the field of basic research.
5. To develop basic technology and new test
compared to OPC, and 11% compared to PPC containing 35% fly ash. LC3 takes advantage of the synergetic hydration of clinker, calcined clay and crushed limestone to achieve the performance required from commercial cements, even at a clinker factor as low as 0.40. Our PQM department was associated with IIT-Delhi/ Bombay/ Chennai & TARA (Technology and Action for Rural Advancement) for development of LC3 cement to support sustainable growth by reducing emissions, energy consumption, capital and product costs, and wastage of raw materials. The Ambujanagar plant was comissioned to provide all required materials for development of this product.

Regional Innovation Exchange South Asia Team

This team was constituted by Holcim to create an innovation roadmap with value-creating opportunities, innovative solutions and successful practices across South Asia. Our PQM team will facilitate reduction of the clinker factor and leverage of opportunities around cement additives; it will also research innovative solutions for affordable housing.

To create a positive perception of our brand, product, services, profile, reputation and image, the PQM department reaches out to prospective and potential procedures as a platform for future product development.

(6). Product and quality optimisation with the use of alternative raw materials and fuels.

Quality Lab Audit

Corporate PQM carries out a laboratory audit of all Ambuja cement testing laboratories annually. The non-compliances are evaluated and addressed. During 2014, three concrete laboratories (regional) were audited by a team of experts from Corporate PQM. Similarly, a quality audit of 15 cement mortar labs (in plants) was carried out.

The product quality is governed by the Bureau of Indian Standards (BIS). As per the BIS mandate, the information is displayed on the bag. No other label is displayed apart from what is mandated. The test report is available and can be produced on demand. However, the Company is planning to display sustainable product-related information on the bag, over and above what is mandated by law.

The Company complies with all statutory requirements mandated by the Bureau of Indian Standard (BIS) Weights and Measures norms. All cement bags carry a toll-free number on which customers can call with complaints or to seek information. The PQM team also tests cement bag samples from all regions every month and does a quarterly benchmarking exercise.